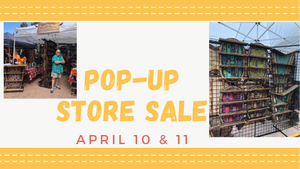 Build A Shelf PopUp Event April 10 & 11, 2021
Since vending shows are few and far between, we have decided to have a Pop Up Event at our Cuban Tiki Room in El Monte, CA.
***Covid Safety measures will be followed. Masks required.***
Here's your chance to Build your shelf. We will have frames of the majority of our shelves available to purchase. Once you pick your shelf you can choose from the fabric we have and we will have limited edition fabric available as well. From there we will complete your shelf for you to take home. Here's your chance to save on shipping and get the shelf you always wanted without having to wait 2-3 weeks for shipping

This event will take place on April 10 & 11, 2021. Time will be 10am to 5pm .
Please contact us with the date and time you will like to come and we will give you the address.

Hope we will see you soon. We sure do miss all the wonderful Ohana
Feel free to message us if you have any questions
. Mahalo
---